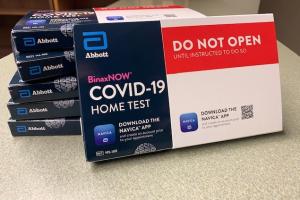 Orrville Public Library has long been a source of information for Orrville area residents. Adding to that information, the library is now offering free COVID-19 rapid antigen test kits. The kits are only available to pick up at our convenient drive-up window.  Please call ahead to have the kits ready and waiting for you!
There are many reasons that a rapid test kit could be helpful. Among them, you can check yourself before deciding to visit an elderly relative or you can show your employer you're negative after returning from an out-of-state trip. There is no cost for the kit and no co-pay.
These self-administered tests, provided at no cost by the state of Ohio, can provide test results in as little as 30 minutes. To use a test kit, you must have a smartphone, an email address, access to the internet, and either a tablet with a camera or a computer/laptop with a webcam. Your laptop/computer must have speakers and a microphone, as you will be speaking with a proctor. You will download a free app to your phone and will answer a series of questions. You will then be connected with a proctor who will provide instructions for taking the test. The entire process will take 15 to 30 minutes to complete and receive results.
Testing alone is not going to end the pandemic, but it is another important tool in the battle against COVID-19. You are still encouraged to avoid crowded indoor spaces, wash your hands frequently, social distance, wear a facial covering when around others, and get the vaccine when it is available to you.
For more information, contact the library at 330-683-1065.